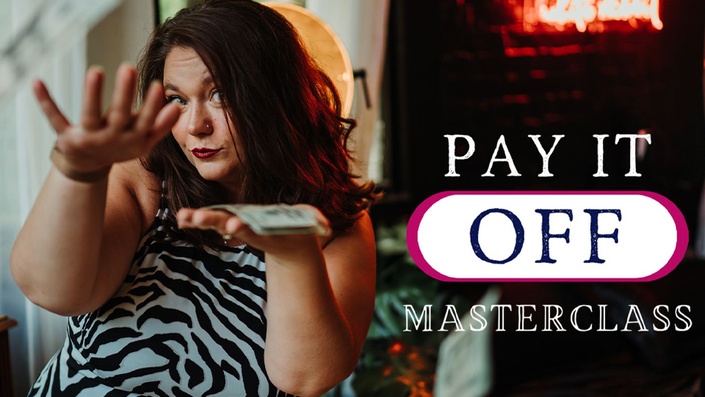 Pay It Off
Have you ever questioned how getting stuck in the debt cycle happens? Are you ready to learn how to break free?
A quick web search will provide you with dozens of strategies and printables that promise to help get you out of this cycle, but if you don't understand what habits caused the debt in the first place, you will find yourself in debt again.

In this Masterclass, I teach you why the idea that you need to be debt free is the most damaging idea in all of mainstream finance.
I've talked to so many clients who have done everything in their power to rush paying off debt, but it's only resulted in them being right back in debt shortly after.
There's a simple three step approach I teach clients to not only payoff debt once and for all, but also implement a savings habit that works.

So if you're stressed about debt and find yourself in cycles of paying, but not making progress, this Masterclass is for you.
Your Instructor

Brie Sodano is a personal finance expert and the founder of Sheep to Shark, a financial planning firm that works with people who aspire to be financially successful.
After seeing hundreds of people financially naked, Brie has developed a process that helps clients learn to accurately assess beliefs about money that affect the way they behave, identify and implement solutions to the "disappearing money syndrome," align their actions with goals, and embrace habits that build wealth. Her successful strategies come from years of personal experience working one-on-one with her clients and the realization that people of all income levels are living paycheck to paycheck.
The barrier to wealth is getting your financial house in order, and Brie believes that anyone can be wealthy if they're willing to put in the effort to learn how money works. Now Brie focuses clients on solving money problems—such as the issues that make people routinely overspend on things they don't really need and don't make them happy. She developed The Invisible System, the key program to learn how to successfully manage your money, as well as Find Your Bleed, which helps to streamline expenses, eliminate waste, and identify low-joy purchases. Both programs are part of her Shark School program and have helped hundreds of clients start their journey towards financial success.